An exciting note from Danisa in Zimbabwe awaits you in today's edition of FaithWalk in Action.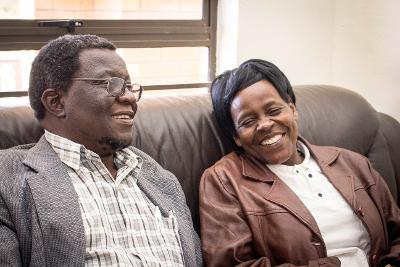 JETS ARE REVVING UP AT FAITHWALK HOUSE!
by Ron Susek
©Golden Quill Publications
READ CAREFULLY!
…pray also for us, that God may open to us a door for the word,
to declare the mystery of Christ…
(Colossians 4:3)
As North America slips deeper into autumn on its way toward the chilly blast of winter, Zimbabwe is racing through a spring that already feels like summer.

Danisa and Treziah are still basking in the afterglow of living in a home without leaking roofs and evictions from landlords escaping Zimbabwe.

They are home…happily home and so many of you have made this possible!

To them, however, FaithWalk House is more than a rest haven, it is a command center for advancing the Great Commission.

Slowly, Zimbabwe is lowering restrictions and outreach is on the rise.

This month, Danisa will be heading to two locations to conduct summits. One will be in the town of Filabusi and the other in Mthanyelwane.

Go ahead and try to pronounce the second one. You must be born in Africa to tackle that one.
Above all, I want you to see how the leaders in these two towns feel about the summits. Here are parts of Danisa's note to me.

"My contacts are already consulting and mobilizing for these Summits.

"Pastor Chris Ndlovu (no family ties with me) is sure of about 30 church leaders. I hope to reach 50.

Pastor Chris wrote why he thought the summit would benefit the church:

"The summit is important because we as leaders are instructed from God's Word how to lead our churches the biblical way. As we are in a rural setup where Christian literature is hardly available, this event will boost the pastors' libraries as they add their notes from the summit.

"The Summit also will bring unity to the evangelical body of Christ. Also, it will open evangelicals' eyes to the real gospel."

"Rev Edson Dube who said:

"Since we are just coming from the Covid 19 lockdown, I hope to organize 50 church leaders from different denominations."

Along with teaching the pure and simple Gospel, he hopes to encourage leaders to be faithful and truthful, especially with elections just around the corner. Elections tend to make leaders lose their focus and integrity.

It is exciting that we are ready to resume these Summits. We invite our friends to pray with us that these doors will remain open and not be closed by another lockdown.

Peace.
Danisa Ndlovu
---
Fellow believers, as you know, summits have many expenses connected with them. I want to rush $2000 to Danisa for conducting these two summits. Your help will be most appreciated. HERE'S HOW YOU CAN HELP!!!

Here on our website go to 'Donate' and choose Option #1 to participate in these upcoming summits, or call Sherrie at 717.337.1170.

Always remember, Immanuel: God is with you!
Your friend,
Ron
IMPORTANT PRAYER REQUEST!
We are asking all of you to remember Doris Ortman (Terry's wife) in prayer this very day as she undergoes surgery to remove her left eye. This eye has long been a source of trouble (she has had no sight in it) and much discomfort and doctors have agreed that this is the only way to give her more comfort and protect her right eye. We love her and pray for a quick recovery, followed by a prosthesis insert. Please join us before the throne on her behalf.