FaithWalk Ministries International is the worldwide ministry focus of Susek Evangelistic Association which exists to help strengthen your faith, your church, your ministry and reach the lost for Christ. We serve the Lord through Evangelism, Conferences, Mediation, Books and other Resources.
Ron Susek is an ordained minister, evangelist and radio Bible teacher. Ron's wife Diane Susek, a graduate of Peabody Conservatory of Music, has recorded eleven albums and has received the Best Album of the Year from the National Evangelical Film Foundation.

"To equip one million Christians worldwide to bring one hundred million people to salvation by the pure and simple Gospel."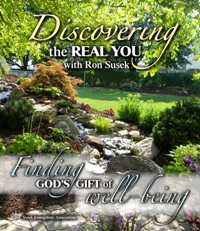 Discovering the REAL YOU
Finding God's Gift of well-being. God is in the business of character building, not quick-fix solutions to our problems. If we evolved from animals, we must look down to the animals to understand our behavior. However, when we turn to the Bible, we discover that is not the picture at all. Rather, we fell from God and the only way we can understand ourselves is to look up to God and see how far we have fallen. The harder you try to feel good about yourself, the more you are focused on self.