The Susek Evangelistic Association is a 45-year-old, established, multi-faceted ministry that is committed to the advancement of the gospel of Jesus Christ by the strengthening and building of the Church.
With its home base in Gettysburg, PA, SEA encourages oneness in the body of Christ through evangelism, conferences, foreign missions, church mediation along with books and resources.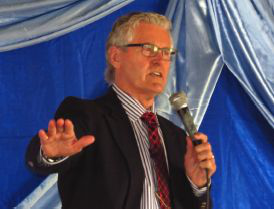 Evangelism & Radio
Through the proclamation of the Gospel in church and city-wide efforts, as well as radio, we seek to strengthen the Church and evangelize.
Conferences
Through our conferences, we equip believers to help others, while offering practical insight to those facing various needs.
Great Commission Summits
The birthplace for the Great Commission Summits for pastors and Christian leaders was the continent of Africa as well as the UK. A Youth Summit was received enthusiastically by African young people and will now be added to every summit location as God opens doors.
Mediation
Our mediation ministry seeks to be a prominent and trusted source of preventative/restorative solutions for Christian ministries facing conflicts.
Books & Resources
Through printed materials, internet, videos and CDs we are giving timely instruction and assistance on a much broader scale.