©Golden Quill Publications
He saw that there was no man,
and wondered that there was no one to intercede . . . .
The Hebrew word (וישׁתומם) is defined as: Wondered, Amazed, Astonished.
What could bring wonderment to the omniscient (all-knowing) mind of God? One thing; to discover that not one person would intercede to save Israel from her sins.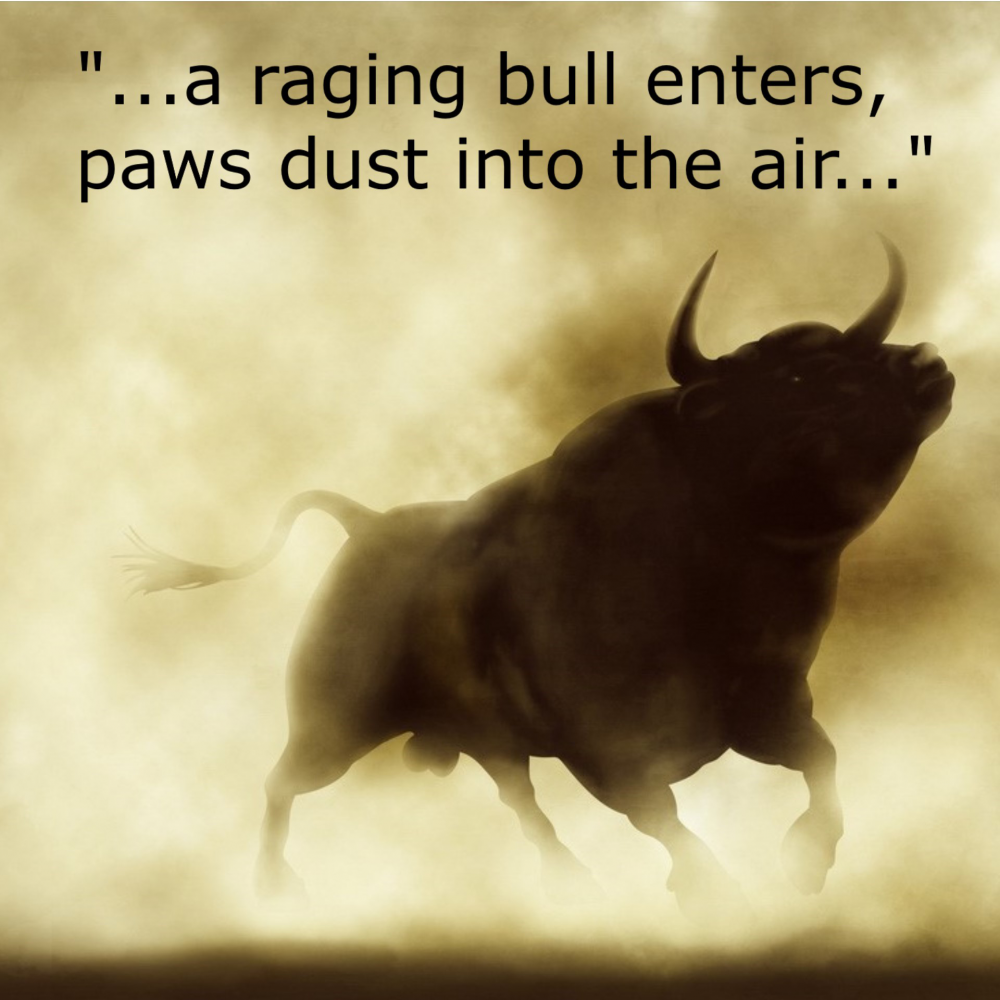 Here is an analogy of intercession. Imagine children rebelling against their father's words to never play in the bull ring. One day, as they frolic in the middle of the ring, a raging bull enters, paws dust into the air, lowers its horned head and charges. It was their rebellion that placed them in life-threatening danger; still, the father risks his own life to stand between the bull and his children. That is intercession!
Israel had long played in the center of the ring, as evidenced by ignoring God's laws regarding justice. Now, the bull of wrath entered the ring and no one rushed to intercede. One commentary spoke of God's astonishment this way:
Benson Commentary: [Wondered] . . . an expression which denotes both God's solicitude [deep care or concern] about their condition, and their stupidity, in not laying it to heart themselves . . . .
Stupidity is the correct word, especially for a nation that was taught God's laws. Their rebellion did not surprise God. He knows mankind's heart. The wonderment resulted from no one rushing into the ring to plead for mercy and cry out for revival. God's remnant was not part of the corruption, but when the corrupt fell, the good went down as well. For example, godly Daniel went into captivity along with the forefathers responsible for the judgment that fell.
How bad was it in Israel? The Isaiah 59 text speaks of no intercessors defending the rights of the helpless against injustice. This caused wonderment in heaven.
Our world continues to play in the middle of the ring. The bull of global destruction is racing toward us. Vain political promises are made. Trillions of dollars are thrown at problems. There is no moral strength or spiritual authority to stop the bull. Its head is lowered. The charge is on. The combative voices of critics abound, but where are the intercessors? Look at the promise offered in Isaiah 59:1, "Behold, the Lord's hand is not shortened, that it cannot save, or his ear dull, that it cannot hear . . . ."
God wondered that Israel had no intercessors to call out to the Great Deliverer. Will we remain as stupid as Israel? We have a choice: throw up our hands in despair or lift up our hands in prayer; intercessory prayer, that is. The Church worldwide is at this crossroads: either stand firm as saints or stumble with the stupid!
These words are written as directives and encouragements to all who will commit to intercession for our time. Israel astonished God by neglecting intercession. It is time to astonish the world by standing as an intercessor between the "bull" and God.
Immanuel: God is with you!