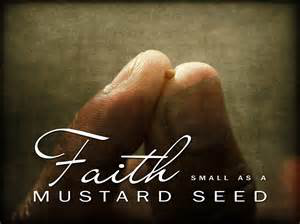 Faith of a Mustard Seed
©Golden Quill Publications
. . . if you have faith like a grain of mustard seed, you will say to this mountain,
'Move from here to there,' and it will move, and nothing will be impossible for you.
As you step into the arena of intercession, think of the possibilities Jesus opened to you--nothing will be impossible. That statement should awaken any adventurous heart that desires to achieve great things.
Take careful note of Jesus' wording: ". . . if you have faith like a grain of mustard seed. This phrase has two thoughts that serve as a double barreled shotgun.
The first thought comes from the phrase, ". . . faith like a grain of mustard seed. The idea that springs from this has been preached for centuries and relates to the size of the mustard seed. The seed is tiny, yet produces mammoth results. Likewise, according to Jesus, if you have faith the size of a mustard seed, you can move mountains.
The other thought, however, springs from another word in the phrase, and is equally loaded with mountain moving possibilities. The phrase reads, ". . . faith like a grain of mustard seed." In other words, can your faith match that of a mustard seed?
You may argue that a mustard seed has no capacity for choice, therefore it cannot have faith. True. Still, all of creation functions by complete reliance upon the Creator to do in and through it what it cannot do on its own. If nature, lacking the power of choice, can function with such trust in God, how much more are we who can make intelligent choices expected to trust our Creator, who is also our Father?
As you put on the full armor of God to face down the powers of darkness in the arena of intercession, give some special thought to praying on the shield of faith. Ask God to give you faith far greater than the size of a mustard seed and far more trusting than a mustard seed.
With this, Jesus said you will move mountains. Should not He know what He was talking about when he made this statement? Did He not move the impossible mountain of blindness, of lameness and even of death?
If you answered "yes" to the previous questions, then you are affirming that Jesus was not giving an outlandish illustration, but rather stating what is possible to those who have faith like a grain of mustard seed, as well as of a grain of mustard seed.
Jesus never pampered those lacking faith because it is an indictment against God. It reveals that we view our limited perceptions as sovereign; knowing better than God. A lack of faith will commend Jesus for clever illustrations, such as the mustard seed, but secretly assume that God cannot expect us to fulfill it.
Never settle for moving mole hills by faith. Plead with God for mountain-moving faith. For starters, ask Him to give you faith like a grain of mustard seed. But do not stop there. Ask Him for faith like that of the Son of God.
Immanuel: God is with you!