Seeking the Desires of God
©Golden Quill Publications
The Lord has sought out a man after his own heart . . . .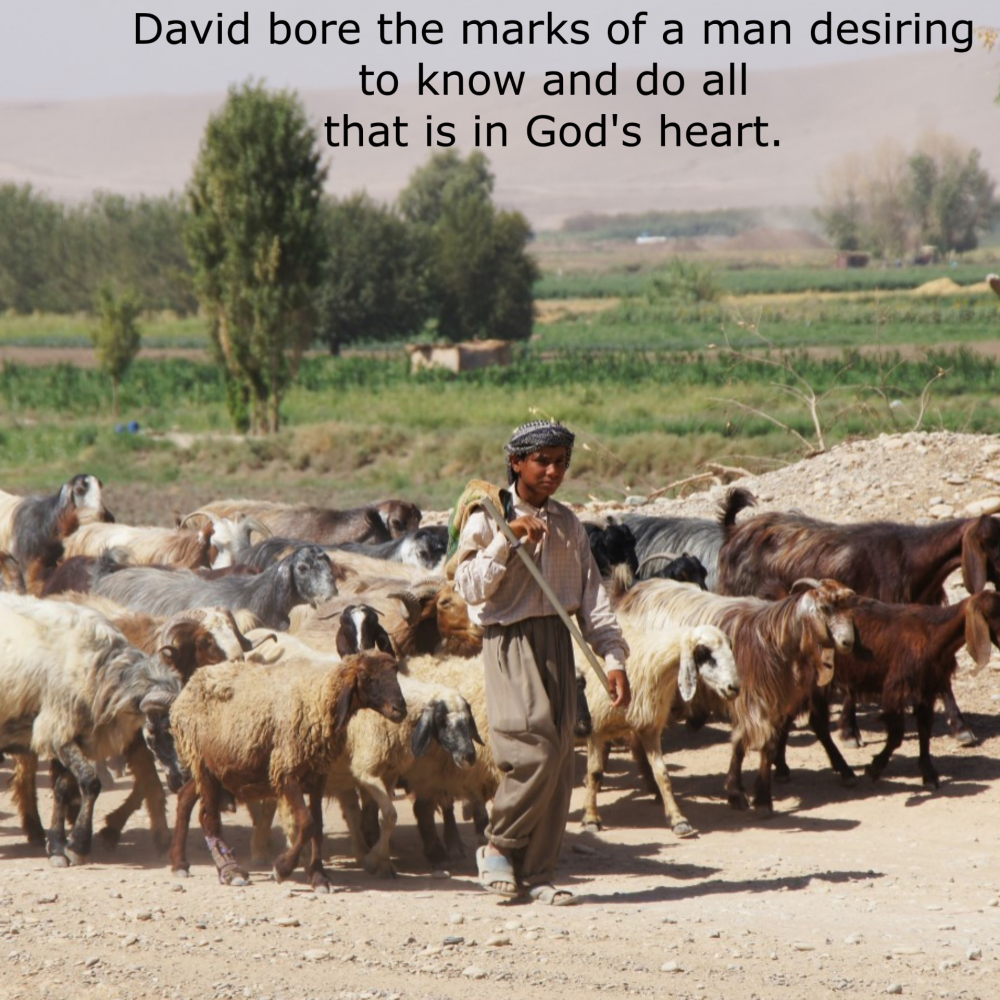 Saul had a golden opportunity in his hands, that being, to have the Messiah reign eternally on his throne. Had he qualified, we would never have heard of the shepherd boy named David.
Saul was humanly ideal for the position: tall, handsome and probably athletic. Shy, he hid when they searched to establish him as king. Indeed, he looked like Israel's pride and glory. Israel no longer desired the rule of God and wanted a king like the pagan nations. God gave them the best-humanly speaking.
Pride, however, quickly replaced Saul's timidity. Since pride is self-rule it must rely upon self-preservation. In short, you are on your own without God. Saul's behavior demonstrated this point. He felt threatened by a young shepherd boy named David and set out to kill him. Another time his army was collapsing in the face of an enemy, so he usurped Samuel's role and offered a sacrifice to God.
It was this act that ended his chance of having the Messiah reign on his throne. God said, "But now your kingdom shall not continue. The Lord has sought out a man after his own heart, and the Lord has commanded him to be prince over his people . . ." (1 Samuel 13:14).
What an insight! 2 Chronicles 16:9 reads, "For the eyes of the LORD run to and fro throughout the whole earth, to give strong support to those whose heart is blameless toward him." Will God's eyes stop scanning the world and focus on you? Are you committed to being the kind of person He is looking for?
David bore the marks of a man desiring to know and do all that is in God's heart.
He never usurped Saul's authority until God established him on the throne.

He cared for his enemy's crippled son.

Profoundly crushed by his sin, he repented with soul-shattering tears.

He only fought the battles that God authorized.

He remained tender-hearted toward a son who sought to shame and murder him.

Building a place for God was of paramount importance to him.
Indeed the list goes on. He was the opposite of the kings of the world. Only a few kings of Israel and Judah emulated David. Most followed the ways of pagan kings. Interestingly, David's name is praised on the lips of modern leaders, whereas the others are lost in the dust of history.
The great question, then, as we step into the arena of intercession, can God answer the desires of our hearts because we first sought the desires of His heart? This may be the greatest key to effectual prayer.
Immanuel: God is with you!