God Sees Your Sorrows
©Golden Quill Publications
Fear not, therefore; you are of more value than many sparrows.
Rusty Improta has never lost his childlike excitement over his God. This relationship is to his soul what air is to his lungs. He runs a vitamin business in Gettysburg, Pennsylvania. Brace yourself upon
entering his store, as a Doberman Pinscher will be staring directly into your eyes. Rusty will quickly say, "Don't worry. Doc won't bite. He loves people." Doc will be wiggling his stubby tail and pleading for you to pet him.
Doc's fame spread. The warm, friendly, pointed ear Doberman seemed to have a stronger effect on people than the vitamins. Then, Doc got cancer. Rusty and the vet fought for Doc's life, but on May 31, 2016, Rusty knew that Doc could suffer no more. He and Doc took their last ride together, which ended at the vet's clinic. Rusty, a lifelong bachelor, buried his pal and returned to his empty home to sit amid flooding memories.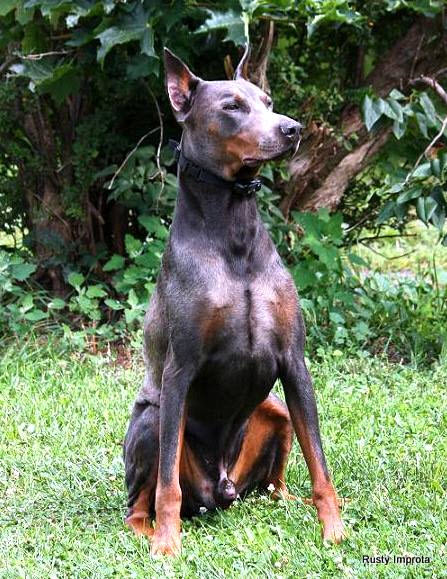 Once again, Rusty leaned on his Father, certain that God had a purpose. Oswald Chambers said, "Through sorrow God will make you nourishment for other people."1
Then, four weeks to the day of Doc's death, Rusty decided to celebrate Doc by watching the sunset. So, he grabbed his camera and drove one mile to a favorite spot. On this evening, the skyscape appeared like a message from heaven. The horizon was ablaze. Rays beamed across the sky as though God was enveloping Rusty with love. The clouds were dark gray with yellowish gold boiling deep within. Stunned, Rusty said, "Thank you, Father, for this gift. Thank you for this reward."
But God was not finished. Rusty had read about a woman who could not keep her year-and-a-half old Doberman Pinscher. Not ready to move on from Doc, he cautiously wrote to her about losing Doc, tentatively expressing, "I could be interested"
She called immediately to say, "Of all the people who want my dog, I feel God wants you to have him. I live in Pittsburgh [some two hundred and fifty miles from Gettysburg] and want to drive him to where you live."
Rusty hesitated. After all, memories of Doc were still too strong. But wondering if this offer may be of God, he agreed. Upon seeing him, the love between man and dog was instant. Rusty said, "One dog cannot replace another, but when I saw this dog I knew he was the one for me. I named him Moses. He is a great dog, the perfect dog for me. I know this is of God."
Does God see and care about your sorrows? Jesus said that you
are more important than many sparrows.James 1:17 reads, "Every good gift and every perfect gift is from above, coming down from the Father of lights with whom there is no variation or shadow due to change." Both sorrows and blessings are perfect gifts, making you more useful in His hands. Never lose heart. Keep the eyes of your heart open to see God's daily gifts that are easily missed in the rush of life. Give thanks. His eyes are on your sorrows.
Immanuel: God is with you!
1My Utmost for His Highest, Oswald Chambers, June 25 entry.