A Different Kind of War
©Golden Quill Publications
In America's Civil War, generals often sat on horseback, giving orders while removed from the front lines of battle. Jesus fought a different kind of war.
Finally, be strong in the Lord and in the strength of his might. (Ephesians 6:10)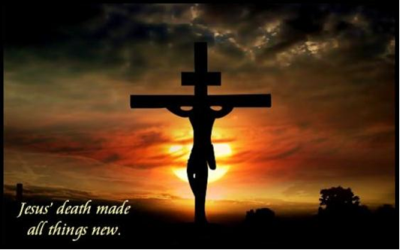 Union Army General William Sherman said, "War is hell." No sound-minded person seeks it or wants it. Tragically, whether provoked or not, there is always an adversary who will impose war upon others. And soldiers are trained to stop such malignant aggression.
Few things cause a lump in the throat like seeing the remains of a fallen soldier being honorably lowered from an aircraft, resting in a flag-draped casket, thus ending the hopes and dreams of loved ones. The tragic fact is that the war that was to end all wars (WWII) was only the gateway to many more since. And lifeless bodies continue to be returned to brokenhearted families.
It will not end . . . yet. Speaking from His prophetic role, Jesus said, "And you will hear of wars and rumors of wars. See that you are not alarmed, for this must take place, but the end is not yet" (Matthew 24:6).

This was not a random "guess", hoping that "chance" would prove Him right. No, He knew from His Father how the end would play out. He saw the end before the world began.
His words are dead on! Madness continues to reign. The saber rattling is deafening. No one has the power to stop the outbreaks of terror. And the forms of warfare are benumbing.

We may be seeing the unfolding of Daniel's prophecy, "As I looked, this horn made war with the saints and prevailed over them, until the Ancient of Days came, and judgment was given for the saints of the Most High, and the time came when the saints possessed the kingdom" (Daniel 7:21-22).
It is the second part of that verse that is most gripping . . . until the Ancient of Days came, and judgment was given for the saints of the Most High . . ..
Who are these saints who will be seated in authority in the coming kingdom? They who came to the cross, where a different kind of war was fought and won. On this battlefield, Jesus did not kill to get His own way, but died to grant His enemies forgiveness and love. Appearing to have fallen in defeat, He rose in power and glory. When He cried, "It is finished," the power and penalty of sin were broken, the grave could no longer hold its captives and all powers of darkness were disarmed and put to open shame (Colossians 2:15).
The victory of the saints is rooted in two things: First, the power of God's spoken word: ". . . so shall my word be that goes out from my mouth; it shall not return to me empty, but it shall accomplish that which I purpose, and shall succeed in the thing for which I sent it (Isaiah 55:11). When God speaks, it happens!

Second, the death and resurrection of Jesus Christ. His death removed His enemy's curse and His resurrection ended our eternal death. Jesus' death made all things new.
Indeed, Jesus fought a different kind of war; the only kind that could establish eternal peace. And His peace is yours to enjoy today.
Immanuel: God is with you!