And just as it is appointed for man to die once, and after that comes judgment. (Hebrews 9:27)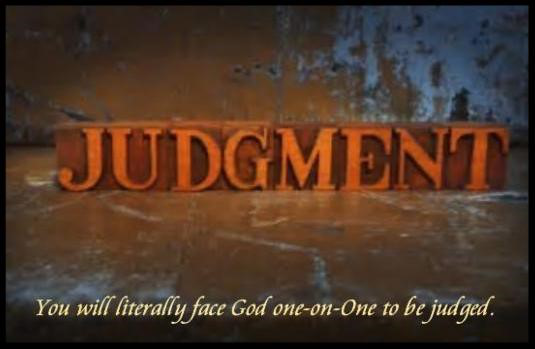 You will literally face God one-on-One to be judged. No one can escape this meeting with God. Would it not be wise, then, to know the standard by which you will be judged?
The majority of people, including Christians, assume that the benchmark will lie somewhere between their good and bad works. They hope the good will outweigh the bad. But this standard sets the bar far too low.
Bottom line, you are not the standard of perfection, nor am I. So, what will God use as His standard for judging you and me? Here are three standards, clearly identified in the Bible:
First, the Bible is the written standard. "For the word of God is living and active, sharper than any two-edged sword, piercing to the division of soul and of spirit, of joints and of marrow, and discerning the thoughts and intentions of the heart (Hebrews 4:12).
Second, the man Christ Jesus is the living standard. " . . . he [God] has fixed a day on which he will judge the world in righteousness by a man whom he has appointed; and of this he has given assurance to all by raising him from the dead" (Acts 17:31).
Third, your words are the practical standard. "I tell you, on the day of judgement people will give account for every careless word they speak" (Matthew 12:36).
So now you know three standards by which we all will be judged. The bar is not too high for you to grasp. After all, you have the mighty work of redemption setting you free from the power of sin, the domination of Satan and the bondage of death. Furthermore, you have a new, divine nature born in you that has the capability to please the Lord. Plus, you have the Holy Spirit to prompt, guide and fill you.
As you come to know Jesus Christ better, your motivation for a good report at the judgment will change from "I want a reward" to "I just want to please you, my God." So, run a good race and receive a crown in eternity that reflects the way you crowned Him during your lifetime on earth.
Immanuel: God is with you!
Your friend,
Ron