Have you ever wondered why God allows false apostles, prophets and teachers to exist? Do not miss today's edition of FaithWalk: Courage for the Journey.
AN UNEXPECTED TEST OF LOVE
. . . you shall not listen to the words of that prophet or that dreamer of dreams. For the LORD your God is testing you, to know whether you love the LORD your God with all your heart and with all your soul.
(Deuteronomy 13:3)
You are responsible to love God by discerning truth from falsehood. Jesus commanded His disciples, "See that no one leads you astray [or, deceives you]" (Matthew 24:4) And, as our text verse states, this discipline is a test of your love for God.

The Church is the desirable bride of Christ. Her value was determined by the price Jesus paid for her redemption. While sin made us all worthless castaways, it was by the extreme price of Jesus' blood that the Church became a coequal heir with Him!

History has proven that Satan cannot defeat Christ. The devil's recourse has been to seduce the bride of Christ. He uses the same lure that he used on Adam and Eve. He promised them more of God - "You shall be like God."
How is he doing this to the Church? Through false apostles claiming to have original apostolic authority, false prophets who claim their words are from God. False faith healers claiming that they have special anointing power. False teachers who subtly twist the scriptures, thereby leading ignorant sheep to the slaughter.

This is not new. God condemns these "wolves in sheep's clothing" in both the Old and New Testaments. They are dreamers speaking from their own imaginations. They are lustful people, bloated with greed. Many learn deception to the point of their own SELF-deception.

Their end will come. Horror will flood their souls as they loudly plead their case to Jesus: "Lord, Lord, did we not prophesy in your name, and cast out demons in your name, and do many mighty works in your name?" The final words they will ever hear before eternal separation from God will be, "I never knew you; depart from me, you workers of lawlessness" (Matthew 7:22-23).
Do you wholeheartedly love God with an unadulterated heart? If so, then you must scrutinize everyone who claims to be sent from God up against the Word of God. You must keep your righteous garments clean by truth and not smudged by adulterous non-truth. Only accept and live out a teaching when you are certain that it is biblically grounded and affirmed by trustworthy Bible scholars who rightly divide the word of truth.

Deceivers entice people by claiming one must be "in the spirit" to understand what they are saying. They say that you will be blessed by God if you give resources to them. Satan is sending a flood of slick-tongued deceivers from hell to soil the garments of Christ's bride. You must prove wholeheartedly your love for God by discerning the deceivers and following what is true.

On that fateful day when Jesus casts many impostors into outer darkness, be certain that He does not ask you why you trusted and followed the deceivers. For the LORD your God is testing you, to know whether you love the LORD your God with all your heart and with all your soul.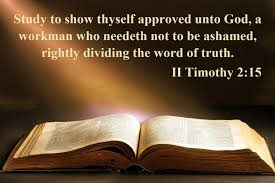 Immanuel: God is with you!
Your friend,
Ron