Have you noticed the love/hate relationship we have with conformity? Do not miss today's edition of FaithWalk: Courage for the Journey.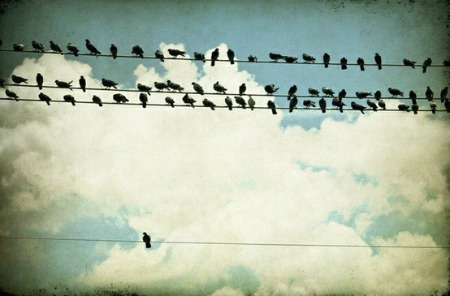 The Conflict of Conformity
by Ron Susek
@Golden Quill Publications
. . . predestined to be conformed to the image of his Son. . .
(Romans 8:29)

Conformity is not optional. Your only choice is to what or whom you will conform. Still, a love/hate relationship exists over conformity. People want to be unique, yet they conform to a certain group for acceptance. Even the kid in the mall who has holes in his ears that did not come with birth, and strangely strewn multicolored hair is not unique; rather he is conforming to a group that affirms his "coolness."

This is also true when it comes to so-called free speech. You are free to speak your beliefs so long as you say what a certain group wants you to say. But challenge their views and they will attempt to humiliate you into silence.

This is called fascism. The word fascism does not belong only to politics. It can be used for any society that refuses to permit debate, discussion and differences over non-essentials. The word "fascism" means to bundle sticks of wood closely together. Thus, a fascist group will let you be part of the "bundle" so long as you fully conform to their views. If not, you are expelled.
People want to be unique in everything from dress to ideas, then conform where they want acceptance. Even the bush people of Alaska, who crave independence from the rules of civilization, conform to the life-consuming disciplines of survival, or they perish.

Conformity to Christ, however, is at the core of Christianity. Sadly, some Christian groups demand conformity in areas not mentioned in the Bible. It may be a dress code or a certain day or manner of worship. Music styles and Bible translations are more sticks for fascist bundles. While some submit to the bundle, others flee.

Frankly, by forming these pockets of "religious fascism", we have created idols that are foreign to the true and living God. Jesus was hated and condemned to death for not conforming to the fascism of Jewish beliefs and practices that defended laws God never ordained. He did, however, fully conform to His Father's will and nature. True Christian conformity is simple - become like Jesus! This is God's predestined goal for every believer: "For those whom he foreknew he also predestined to be conformed to the image of his Son, in order that he might be the firstborn among many brothers" (Romans 8:29). And this conformity leads to completeness of life.
Jesus was not a "free spirit." He said and did nothing that was not of His Father. He came as the image of His Father. Heaven will be comprised of those who conformed to Jesus' likeness, just as He was conformed to His Father's likeness.

God said, "for my people are foolish, they know me not; they are stupid children; they have no understanding" (Jeremiah 4:22). Are we not as stupid and ignorant as they when we demand conformity to tightly bundled non-biblical ideas? Are we crucifying Jesus anew?

The world demands conformity. So does God. Wondrously, it is in this conformity that abundant life is experienced. Which conformity do you choose?
Always remember, Immanuel: God is with you!
Your friend,
Ron