Read about the seven words that have transformed untold millions of lives in today's edition of FaithWalk: Courage for the Journey.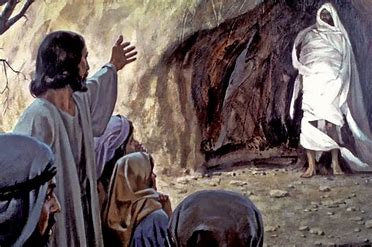 Seven Life-Changing Words
by Ron Susek
@Golden Quill Publications
I am the resurrection and the life.
(John 11:25)
As Jesus visited Bethany, Mary and Martha had nothing to present to Him except their brother Lazarus, who was deceased and decaying. Their grief was expressed in irritation that Jesus had arrived too late to keep him alive. "Lord, if you had been here . . . " bears the tone of rebuke, as though Jesus neglected his beloved friend, Lazarus.
Jesus responded with the seven words that can transform any one in any situation that appears beyond hope: "I am the resurrection and the life."

Martha responded by saying she knew there is a future resurrection. She missed, however, Jesus' emphasis on "I am . . . I am the resurrection." In other words, He could do something about the situation now - present tense.

And so, He did. That evening Mary and Martha were flooded with joy to have Lazarus at the dinner table.

At His crucifixion, however, Jesus relied upon His Father to resurrect Him. thus, we read, "In the days of his flesh, Jesus offered up prayers and supplications, with loud cries and tears, to him who was able to save him from death, and he was heard because of his reverence."

This demonstrates His eternal submission to His Father, who is the great "I Am!" The name "I Am" reveals that God reigns in self-contained completeness. It was He who empowered Lazarus to "come forth" from the dead upon His Son's command. It was He who raised His Son from the dead. It is He who has empowered His Son to vanquish death (1 Corinthians 15:54-55) and transform our mortal flesh into immortal bodies.
There are many deaths in life other than physical death. Situations will arise over which you have no control. It will be tempting to say, "Lord, if you had been here." Never forget, however, the seven powerful words Jesus spoke. "I AM the resurrection and the life" [emphasis mine]. There is no grave in your life that He cannot open.

Think about it. The same Jesus who raised Lazarus from the dead also calmed a storm, delivered a demoniac and fed five thousand - all deathlike circumstances to which He brought resurrection power. Rather than approaching Jesus with a tone of rebuke, worship Him who can speak resurrection life into any situation in your life. Pray, wait and seek until you hear Him say, "I am the resurrection and the life . . . Lazarus, come forth!"

In light of this truth, Paul wrote, ". . . be steadfast, immovable, always abounding in the work of the Lord, knowing that in the Lord your labor is not in vain." In God's time you will always see life enter where death once reigned. So, press on in steadfast faith!
Please accept the warmest blessings this Easter from Diane and me, and our staff and board.

Always remember, Immanuel: God is with you!

Your friend,
Ron