Do you curse or embrace the dark times of life? Think about this as you read today's edition of FaithWalk: Courage for the Journey.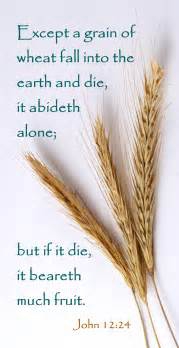 Death and Resurrection
by Ron Susek
@ Golden Quill Publications
Truly, truly, I say to you, unless a grain of wheat falls into the earth and dies . . .
(John 12:24)
Nothing, including our eternal life, could come to pass without Jesus' death and resurrection. Through that process, Jesus' work on earth will stand for eternity. Likewise, only the accomplishments in your life that pass through death and resurrection will last forever.

Ponder this: A seed will remain a seed, nothing more, so long as its outer shell remains crusty and hard. Locked within the encasement of a seed are possibilities of life, beauty and purpose. To remain a seed is like a great artist who never picks up a brush - missing one's purpose, alone and undiscovered.
Life is released by death. Only when a seed is thrown into the darkness of moist soil and dies will the miracle of germination occur. Upon its death comes the fruit of life: Golden wheat swaying in the summer breeze, colorful flowers spreading beauty and fragrance and vegetables unleashing nutritious strength.

These are the images Jesus alluded to when He said, "Truly, truly, I say to you, unless a grain of wheat falls into the earth and dies, it remains alone; but if it dies, it bears much fruit (John 12:24).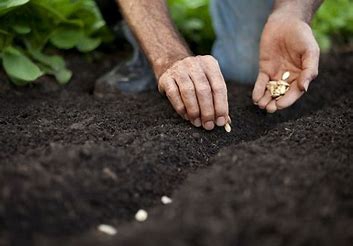 It is hard to cling to this truth when you are being sown into a dark situation. You feel something dying inside and you fear you may never be the same. Well, something IS dying and you will NOT be the same. God is bringing a deeper attachment to this world into death so that you can more fully walk in resurrection life.

Only this new life can produce rivers of living water and eternal fruit. It is hard to see where our old nature was blocking the flow and spoiling the fruit.


Here is the choice you face. You can insist on staying in the shell of the grain, thereby remaining in a worsening darkness, or you can invite God to complete the process. The first choice leads to backsliding and the second to advancement.
If a seed were simply to remain a seed, it would produce nothing. God does not lead you into such deaths to forget you, but to bring you forth in the resurrection of eternal productivity. It is possible to refuse this work, however, and remain buried in that area God seeks to transform.

Keep in mind that a seed can only produce the magnificence of life above the ground after it dies beneath the ground. let the part of your life that God has planted die. Then the Holy Spirit will germinate and grow that which you could not do on your own. Then you will find yourself more and more like what God desired for our first parents - Adam and Eve - fulfilling the purpose of God in the heat of the day and fellowshipping with Him in the cool of the day.
Always remember, Immanuel: God is with you!

Your friend,
Ron