THE LAMP OF YOUR SPIRIT
Thursday, May 17, 2018 by Ron Susek
Discover how God searches the deepest parts of your heart by reading today's edition of FaithWalk: Courage for the Journey.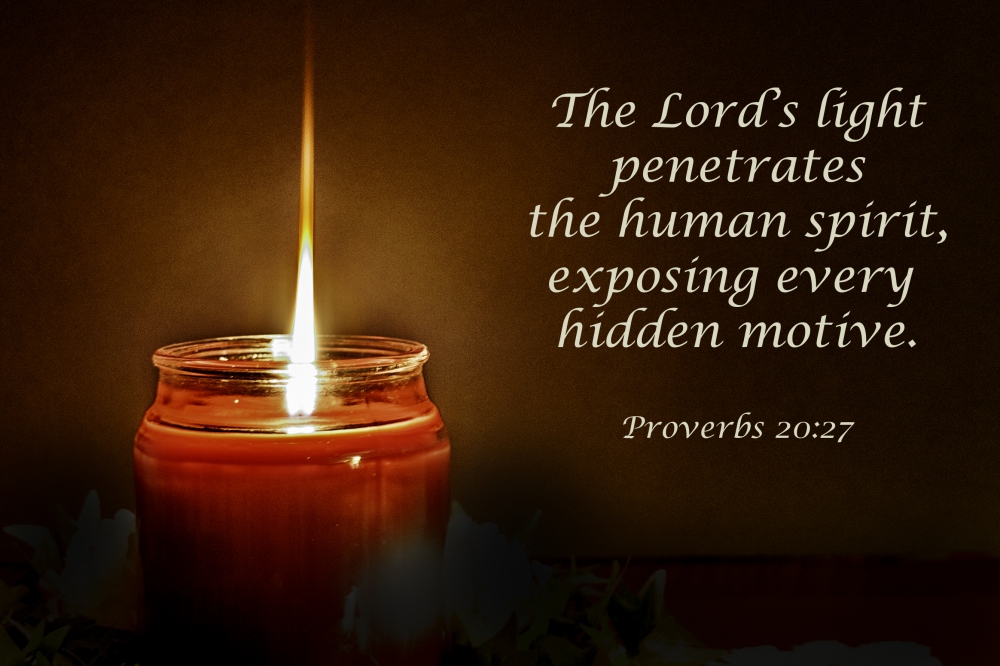 The Lamp of Your Spirit
by Ron Susek
@Golden Quill Publications
The spirit [breath] of man is the lamp of the Lord, searching all his innermost parts.
(Proverbs 20:27)
Whereas the sun floods the earth from one horizon to the other, a lamp illuminates one small corner at a time. A broad view is needed to see where you are heading, but a narrow focus is needed to get you there.

When God looks upon you, He sees the whole landscape of your being: your inbred motivations, your varied shades of personality, what shaped your worldview, etc. He sees to your depth, even to that which lies beyond your view.

Today's verse reveals that God turns on the inner light of your spirit to reveal you to yourself - one small corner at a time. This is for your benefit, not His.

This process is unique to you as the highest of all creation. No such thing takes place in animals. They have no introspection, no soul searching, no regret or consideration of improvement. All is instinctive, from the biting and kicking to establish hierarchy to killing for survival. All is instinct - period!

Not so with you. You were created for a personal relationship with God. He is tediously shining the lamp on your spirit one area at a time, illuminating that which cannot remain: a savage tongue, critical spirit, idols of the heart, Godless attitudes, improper thoughts and inappropriate conduct. The list goes on and on.

Offering God explanations, excuses and defenses will delay the process. Be wise. Confess and repent. Step by step He will transform you into the likeness of His Son, Jesus Christ (Romans 8:29).

Like you, every Christian must experience God's work in their lives. Both Ruth and Billy Graham had to go through this soul-searching process. Ruth Graham had engraved on her tombstone, "End of construction - thank you for your patience."
God also shines the lamp on your spirit on areas where He has developed the fruit of His Spirit in you. You will see love where bitterness was once nested; joy where anger once thrived; peace where turbulence once boiled; patience where agitation once hid; kindness where criticism once reigned; goodness where selfishness once harbored; faithfulness where unreliableness once closeted; gentleness where harshness once demanded its own way and self-control where lust once lurked.

You cannot produce this transformation by self-effort. This comes only as the Holy Spirit reveals each area to you over your lifetime. Progress comes as you confess, repent and yield to the transformation.

So, welcome God's intense focus, revealing those areas that lie beyond your view. God's highest purpose is to make you identical to His Son (Romans 8:17).

Always remember, Immanuel: God is with you!
Your friend,
Ron
---
---