Are you ready for the great leap of faith? We will look hard at what this means in today's edition of FaithWalk: Courage for the Journey.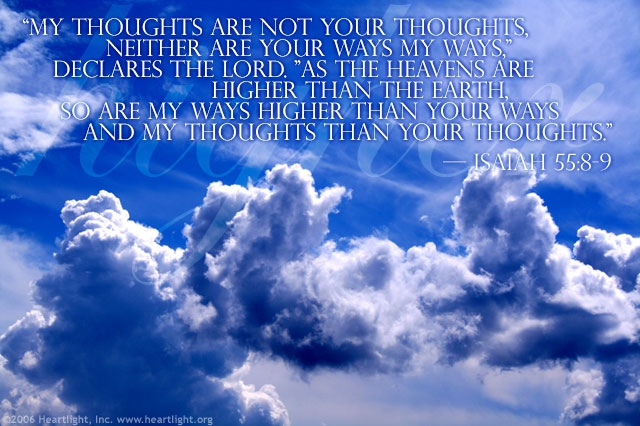 The Great Leap of Faith
by Ron Susek
@ Golden Quill Publications
For my thoughts are not your thoughts, neither are your ways my ways, declares the LORD. For as the heavens are higher than the earth, so are my ways higher than your ways and my thoughts higher than your thoughts.
(Isaiah 55:8-9)
The great challenge to faith comes when life seems to rally its forces against you. You realize that you were only useful for a moment, then the very people you loved, trusted and needed walked away. You feel as though you were played for a fool. Your name is up for slander. And heaven seems silent, even deaf to your cry for help.

This is when the contest of faith reaches a fevered pitch. Temptation, posing as your friend, urges you to take matters into your own hands.

It is now when your faith must leap the yawning gap between God's ways and your ways. The span appears infinite and impossible, but this is the vault God requires of faith. To make the jump you must be willing to think and act like God, even when you appear to be the loser in your pressing circumstance. Are you willing to believe God is with you even when the evidence escapes you? Are you willing to handle your situation the same way God is handling it?

Jesus did, and was crucified for it. But then came His resurrection! It was established that God would reduce His enemies, who sang in triumph at His death, to his footstool (Hebrews 1:13). He was raised up by God as the Lord of the nations.
Was this easy for Jesus to do? No. The hour of bleakness became so intense that He asked if it was possible for the cup to pass. Knowing that to bypass this sorrowful cup of suffering would be to forfeit the redemption of His enemies, Jesus surrendered to His Father's way - "Thy will be done."

Still, the agony increased until He cried out in a loud voice, "My God, my God, why have you forsaken me?" (Matthew 27:46).

Amid incomprehensible grief and suffering, Jesus obeyed because of His confidence that His Father's thoughts and ways, though higher than ours, are best - the power to give eternal life to all who call upon His name would only be possible by passing through the grave and placing His blood of redemption before His Father's throne.

So, the leap of faith into the thoughts and ways of God is never easy. But it always ends with your enemies reduced to footstools and your exaltation to reign over the coming kingdom as a co-equal heir with Jesus Christ (Romans 8:16-17).
As you ponder the leap into God's thoughts and ways of handling your situation, know that this is a vault to victories that are glorifying and pleasing to God.

Always remember, Immanuel: God is with you!
Your friend,
Ron