What could cause you to slip and stumble away from faith? This is a good time to read today's edition of FaithWalk: Courage for the Journey.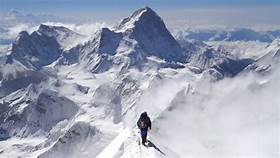 Faith's Narrow Ridge
by Ron Susek
@ Golden Quill Publications
But as for me, my feet had almost stumbled, my steps had nearly slipped. For I was envious of the arrogant when I saw the prosperity of the wicked.
(Psalm 73:2-3)
A faith-walk with God is much like traversing a narrow ridge with steep slopes on both sides, which calls for sure-footedness.

Some of the winds and slopes come from academic circles, challenging confidence in God's inerrant Word. Others come from the pressures of life's bewilderments

A dominant headwind that has toppled many Christians is the sense of unfairness that comes by seeing people prosper despite mocking all that is righteous and good.

This nearly caused Asaph to slip and fall, or put another way, give up on the disciplines of a faith-walk pleasing to God. He boldly admitted that he nearly threw in the towel, saying that faith in God was worthless. He was ready to quit.

Asaph described the lifestyles of the opulent, which resulted in their eyes bulging from fat. They mouthed off slanderous words toward heaven, making light of sacred things. They dismissed God as being blind to their behavior. Yet, they were successful.

One thought nearly blew him off the ridge: "All in vain have I kept my heart clean and washed my hands in innocence" (Psalm 73:13). It simply did not seem worthwhile to maintain the disciplines required to stand on the pinnacle of faith.
He was about to fail when another thought grabbed his hand and lifted him back to the top. He wrote, "But when I thought how to understand this, it seemed to me a wearisome task, until I went into the sanctuary of God; then I discerned their end."

Perhaps, as he sat in the sanctuary, he thought of Solomon, who began as the wisest man on earth, then died a fool; and that because, as he aged, he abandoned his faith-walk to marry pagan women. His dad, David, was the opposite. He committed horrible sins in his younger years, then walked the high ridge of faith the rest of his life. Solomon left a trail that he himself called vanity - an empty, passing wind. In contrast, David left a throne upon which Christ will reign.
In a flash of a thought, Asaph rose again to the heights of faith-obedience. It was by sitting in the sanctuary and seeing the end that restored his determination to continue walking the ridge, defying the buffeting winds.

You will face unique winds blowing for each season of your life. Keep your feet firmly planted, your heart steadfastly fixed and your eyes on the ultimate end. Laugh at the winds. Without them, there is no meaningful walk of faith.

Always remember, Immanuel: God is with you!
Your friend,
Ron