How have you responded to God's invitation to heaven? Before answering, read today's edition of FaithWalk: Courage for the Journey.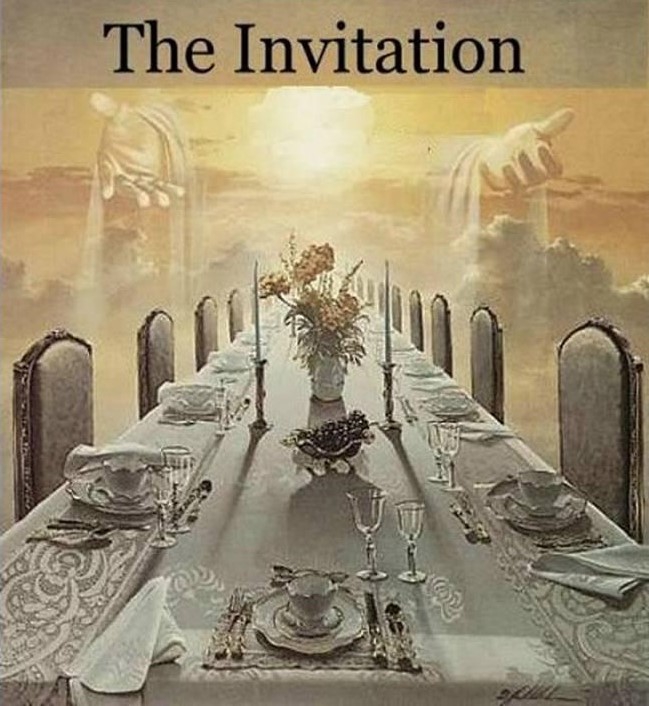 by Ron Susek
@Golden Quill Publications
And he said to him, 'Friend, how did you get in here without a wedding garment?' And he was speechless.
(Matthew 22:12)
It is a great honor to receive an invitation to an important event. To attempt to attend without an invitation is to suffer the humiliation of being turned away or escorted out.

This is true of heaven. No one enters without an official invitation by God. Not one fallen angel will be invited, but sinners will. The invitation is short and simple:

It is the work of the Church to go to the highways and byways of life, calling to sinners to come to the Lord. God's closing thoughts when finishing the Bible and putting His quill aside had to do with His invitation to sinners: "The Spirit and the Bride say, 'Come.' And let the one who hears say, 'Come.' And let the one who is thirsty come; let the one who desires take the water of life without price (Revelation 22:17).
If you are honest with yourself, you would be asking, "Why me?" Your sin would rise up and point its boney finger of condemnation at you.

But it is you whom God seeks. And why is this? Because He loves you with an everlasting love (John 3:16). You may argue that you are not worthy of such love. No, you are not, nor is anyone else. God's love is not based upon your conduct, but upon His character.

God's invitation was costly. It demanded the death of His Son in your place. Jesus and His Father were in full agreement, however, that they both loved you to that extent. So, the invitation extends to you.
God is not wiling that any should miss this invitation and perish (2 Peter 3:9). In fact, if you will confess your sins, repent and trust Jesus to take your sins away by His death on the cross, God will clothe you with the garments of His Son's righteousness. This is a result of being justified by faith (Romans 3:22).
Think of it! God has done all that He can do. He created you. He redeemed you. He extended His forgiveness to you. He invited you. He will clothe you.

Will you accept His invitation? If so, pray this simple prayer from your heart:
Dear God, on the basis that Jesus died for me, I am trusting your forgiveness for all my sins. I accept your invitation to heaven. I am asking you for the power to live committed to you, obedient to your will, from now until I meet you in heaven. I pray in Jesus' name. Amen.

Always remember, Immanuel: God is with you!
Your friend,
Ron