MORE THAN CONQUERORS
Thursday, January 10, 2019 by Ron Susek
How strong is your faith? Consider what it takes to be "more than conquerors" in today's edition of FaithWalk: Courage for the Journey.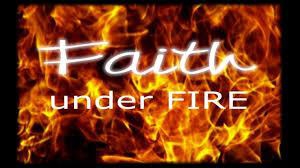 More Than Conquerors
by Ron Susek
@Golden Quill Publications

. . . so that the tested genuineness of your faith – more precious than gold that perishes though it is tested by fire -
may be found to result in praise and glory and honor at the revelation of Jesus Christ.
(1 Peter 1:7)
Are you getting sick and tired of the feeble-faith spreading across the world by hucksters who make faith sound like a jackpot lever in Las Vegas? The great work of God in your life is cut short by the notion that you can control outcomes by knowing the formula that obligates God to flood you with blessing.

Indeed, abundant blessing will always come from God, the giver of perfect gifts. But they do not flow from above upon demand. They come by faith-endurance, even if it boils down to Job's words, "Though he slay me, I will hope in him . . ." (Job 13:15).

Sound-minded believers look upon false teachers with disgust. Worry not. They will receive the judgment they have asked for. They have bartered their souls and will someday suffer regret beyond measure. In the meantime, however, they continue to steal true faith from unsuspecting people.

What is real faith? Every day, countless Christians face life threatening situations for their allegiance to God, believing that martyrdom in Jesus' name is better than betraying heaven. Across North America many think that a slow line of cars at a fast food restaurant is a brutal test of faith.
Oswald Chambers wrote, "Faith by its very nature must be tested and tried." Then he adds, "Faith, as the Bible teaches it, is faith in God coming against everything that contradicts Him - a faith that says, "I will remain true to God's character whatever He may do." (My Utmost for His Highest, October 31).

Faith is not manipulation of God, but rather relationship with Him. The suffering of His people is not a game that He plays. It is preparing us for positions beyond what we can imagine in this world.

Stand firm no matter what trial has come against your faith. Faith will be rewarded. When we join the elders on high to sing, "Worthy is the Lamb that was slain", you will by the invitation of grace be seated with Jesus on His throne. Revelation 3:21 tells us, "The one who conquers, I will grant to sit with me on my throne, as I also conquered and sat down with my Father on his throne."

Always remember, Immanuel: God is with you.
Your friend,
Ron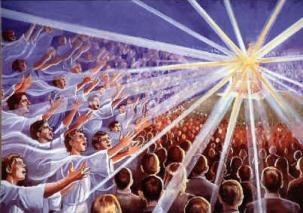 ---
---