Have you ever wondered what a plow would say if it could speak? Consider it in today's edition of FaithWalk: Courage for the Journey.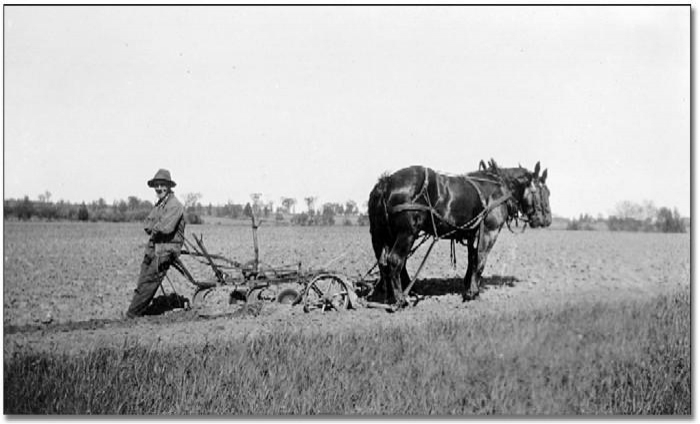 Never Look Back
by Ron Susek
@Golden Quill Publications

No one who puts his hand to the plow and looks back is fit for the kingdom of God.
(Luke 9:62)

The tip of a plow is always penetrating hard ground, even striking occasional stones, rocks, tree roots and yes, boulders. The present is difficult, the future is uncertain, and the end never seems in sight. When you see nothing except dark, clumpy soil it is hard to envision the crop.

If a plow could speak, it may say, "Look at the soft furrow behind us. Please, let's turn around and plow through that. It would be so much easier." As wonderful as it sounds to plow through the soft, familiar past, it would never lead to the harvest.

Yes, Jesus did say, "Take my yoke upon you, and learn from me, for I am gentle and lowly in heart, and you will find rest for your souls. For my yoke is easy, and my burden is light" (Matthew 11:29-30). He did not say, however, that the soil would be soft.

Admiring Jesus, people began declaring, "I will follow you wherever you go."
That is when he told them about the hard soil they would encounter. He warned them against looking back to the past, which was hard at the time but seemed soft in the present.
There is an easier way of plowing through today's tough ground with more tough ground coming tomorrow. Plow sand. Indeed, to plow a sandy beach would be easier on both the plow and you. But there would never be a harvest.

Do you want a harvest of great value, one that stands forever? Don't look back. Look forward and keep plowing.

If you look back, the soil may be soft, but you are not making progress. Look to the right or left and soon you are meandering through turf as hard as where you were. The ground is hard in every direction. Looking to the past is to crave a fluffier life. Truthfully, time filters from our minds how resistant the soil was when passing through the bygone era.

As it is with a farmer and his plow, so it will be with you. The way forward means following the One who said, "Foxes have holes, and birds of the air have nests, but the Son of Man has nowhere to lay his head." Is following Jesus worth plowing through hard soil? Here was Jesus' conclusion: "No one who puts his hand to the plow and looks back is fit for the kingdom of God" (Luke 9:62). It is only in the kingdom that the fruit of your labor will be revealed.
Having laid your hand to the plow, don't look back!

Always remember, Immanuel: God is with you.
Your friend,
Ron