Here is the bright future wherein lies our hope. Read part two of God's straight talk to Israel in today's edition of FaithWalk in Action.
LET GOD SPEAK for HIMSELF
(Part #2)
by Ron Susek
©Golden Quill Publications
Read Carefully and see the prayer at the end.
(Isaiah 59:16-21 NIV)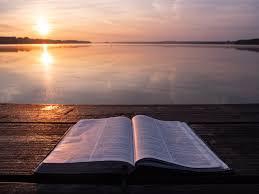 16 He saw that there was no man,
and wondered that there was no one to intercede;
then his own arm brought him salvation,
and his righteousness upheld him.
17 He put on righteousness as a breastplate,
and a helmet of salvation on his head;
he put on garments of vengeance for clothing,
and wrapped himself in zeal as a cloak.
18 According to their deeds, so will he repay,
wrath to his adversaries, repayment to his enemies;
to the coastlands he will render repayment.
19 So they shall fear the name of the Lord from the west,
and his glory from the rising of the sun;
for he will come like a rushing stream,
which the wind of the Lord drives.
20 "And a Redeemer will come to Zion,
to those in Jacob who turn from transgression," declares the Lord.
21 "And as for me, this is my covenant with them," says the Lord: "My Spirit that is upon you, and my words that I have put in your mouth, shall not depart out of your mouth, or out of the mouth of your offspring, or out of the mouth of your children's offspring," says the Lord, "from this time forth and forevermore."
Comment: God saw that no man could redeem you and me from the sin Adam introduced when he rebelled against God in the garden. The only hope was for a worthy, sinless Person to pay the death penalty for our sin. Jesus did that on the cross. Your salvation is based fully upon Jesus' obedience. The coming kingdom of God will be comprised of those who have accepted and trusted the redemption God has provided. This is how you can be certain of entering God's kingdom.
A prayer: Dear merciful heavenly Father, Thank You for taking it upon Yourself to offer redemption from our fallen condition. I am trusting the forgiveness You offer through the cross of Jesus Christ and commit my life to live for Your will and glory. I pray in Jesus' name, Amen.

Always remember, Immanuel: God is with you!
Your friend,
Ron