I am handing my pen to Patson Mpufo who wrote the following soul-searching article. It was edited by permission for today's edition of FaithWalk: Courage for the Journey.
THE "DEAD" EVANGELIST in a CHOIR ROBE
by Ron Susek
@Golden Quill Publications
READ CAREFULLY!
…let us also lay aside every weight, and sin which clings so closely,
and let us run with endurance the race that is set before us…
(Hebrews 12:1)

Patson Mpufo is a Brethren in Christ educator in Zimbabwe. After attending our Great Commission Summits, Patson used the summit messages to conduct a youth summit. Patson is tall, has a huge laugh and possesses a sincere heart for young people. By challenging the next generation in their service to God, Patson is fulfilling the vision and purpose of our Great Commission Summits. Read his story...
Come sunshine or rain, brother Clifford dutifully distributed Gospel tracts to passengers at the train station.

One Sunday at church, a standing ovation followed the choir's song. Instead of joy, brother Clifford felt sad that his soul-winning efforts had never been acknowledged or rewarded by the church members, not even the ministers.

He also realized that nobody from the station ever bothered to thank him for his years of faithfulness.

Brother Clifford stopped passing out tracts and joined the choir. He was warmly welcomed and was soon singing solos that received standing ovations. This made him certain that his decision was right.
One Sunday he sang Psalm 23 as a solo. Once again, the church stood to applaud him.

Their applause, however, was interrupted by an unknown old man who rose and asked permission to sing the same song.

Against protocol, the uncertain pastor allowed the old man to sing. His voice was shaky and broken, yet his sincerity of heart shattered pride in many hearts. This spread throughout the congregation. Many wept. Some even dropped to their knees in repentance.

Instead of preaching, the pastor gave an altar call. Many sinners found salvation as backsliders returned to their first love.

Brother Clifford, the evangelist in a choir robe, saw the difference between striving for men's applause and fulfilling God's purpose. He departed heavyhearted.
As if in a trance, he failed to remove his choir robe. With empty hands he headed for the train station. Upon arriving, he saw a man standing where he once stood and faithfully distributing gospel leaflets. The man handed him a gospel tract that read "I Will Be a Faithful Soldier, I will Die at My Post. It ended by asking, "Are you a faithful witness of the WORD?"

With teary eyes and trembling voice, he asked the man what made him start distributing tracts on this spot at the station. With no time to look at him, the busy man said:

"A dead man once came here in sunshine and rain to distribute tracts. For months the man has been gone. I assume the man must be dead. The dead man once gave me a tract that changed my commitment to Christ. And since the man is evidently dead, I feel God wants me to replace him to continue the good work in the memory of the dead man."
The man's repeated emphasis on the words, "dead man" drove Brother Clifford to his knees weeping and asking for God's forgiveness.

Hmm…

If you are still reading this, believe me, God has set you up to read it because He has a purpose for your life.

Are you the "dead" evangelist in a choir robe? Have you left your calling because of discouraging words of cynics and critics? Have you abandoned the silent praise of heaven for the boisterous ovations of men?

People's applause ends at the grave. Only obedience to God will be rewarded before the angels and the Church. Serve in the highways and byways, then come to Church to worship God in Spirit and truth. Therein will be your reward.
---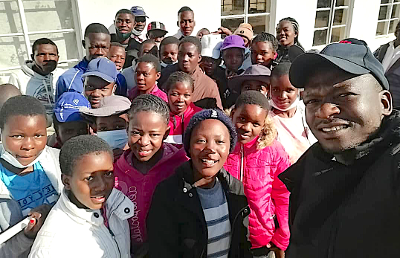 Here are some of the young people who attended the Great Commission Youth
Summit conducted by Patson.

I know you will want to pray for Patson as he moves forward in turning the on-coming generation towards God.

Always remember, Immanuel: God is with you.
Your friend, Ron