Explore with me what is meant by having the courage to pray in today's edition of FaithWalk: Courage for the Journey.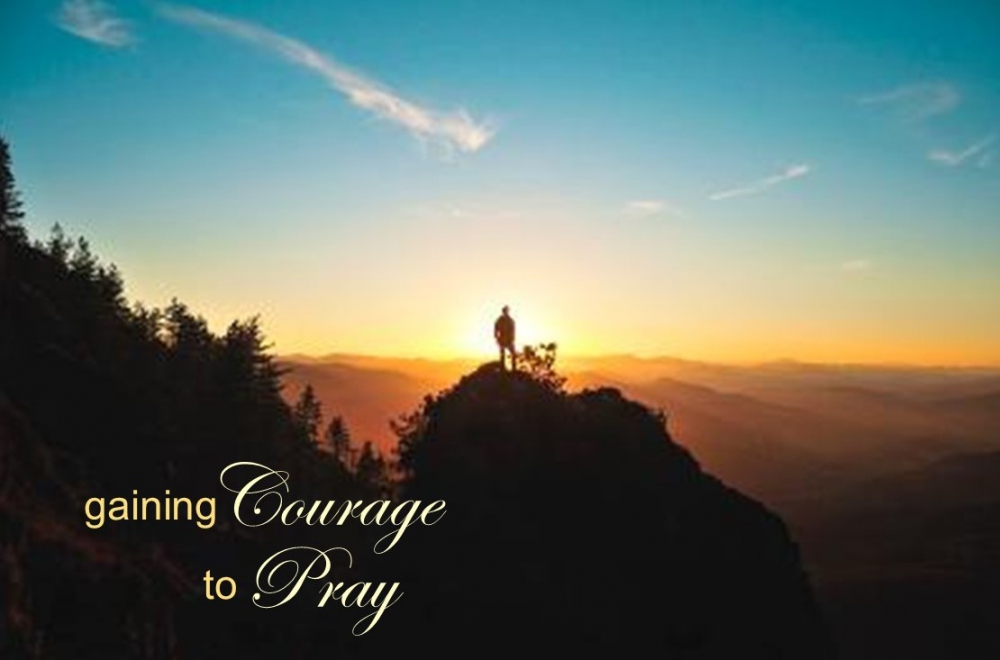 GAINING COURAGE TO PRAY
by Ron Susek
@Golden Quill Publications
READ CAREFULLY!
And now, O Lord God, confirm forever the word that you have spoken concerning your servant
and concerning his house, and do as you have spoken.
(2 Samuel 7:25)Historic setting: David was a young lad when God raised him up from tending sheep to replace Saul. It started when God took him from tending sheep to slaying Goliath. This act skyrocketed his fame.

This enraged Saul's jealousy. In time, God replaced self-centered Saul with God-centered David. No longer was he sleeping on dew dampened slopes while tending sheep but sleeping in the king's bed with servants tending to his every wish. Soon opposing nations learned not to mess with David.

Despite his dark year of sin that began with adultery and ended with a lie and a murder, his heartfelt repentance showed him to be a man after God's own heart.

We read in 2 Samuel 7 David's desire to build a house for God. God said no, however, and promised to build a house for David, meaning that his progeny would extend all the way to the Messiah being seated on David's throne.

David's response inspired the title of today's devotional. He prayed, "For you, O Lord of hosts, the God of Israel, have made this revelation to your servant, saying, 'I will build you a house.' Therefore your servant has found courage to pray this prayer to you" (2 Samuel 7:27).
David would never dream of asking God to seat the Messiah on his throne. When God revealed His purpose for David, then David had the courage to pray for what God had initiated.

Application: So it is with you. God has a unique purpose for your life. Like David, disentangle yourself from sin by confession and repentance. Seek His face. He will reveal His purpose. Once God shows you His purpose for your life, then courageously say with David, "The LORD will fulfill his purpose for me; your steadfast love, O LORD, endures forever. Do not forsake the work of your hands" (Psalm 138:8).
Now you can boldly lay claim to Paul's words that read, "For all the promises of God find their Yes in him. That is why it is through him that we utter our Amen to God for his glory" (2 Corinthians 1:20).

Here are basic steps toward achieving God's purpose in your life:
1) Confess and repent of sin (1 John 1:9).
2) Seek God with all your heart (Jeremiah 29:13).
3) When God shows His purpose for you, pray with courage that He will fulfill it (2 Samuel 7:27).
4) Worship God (Revelation 22:9).
5) Walk humbly and He will exalt you (1 Peter 5:6).

While God may lead you on a rocky path, as He did David, you will end up seated on a throne beyond your imagination.

Remember, Immanuel: God is with you.
Your friend,
Ron