Although faith is a dare, it is the safest dare of life. Read today's edition of FaithWalk in Action.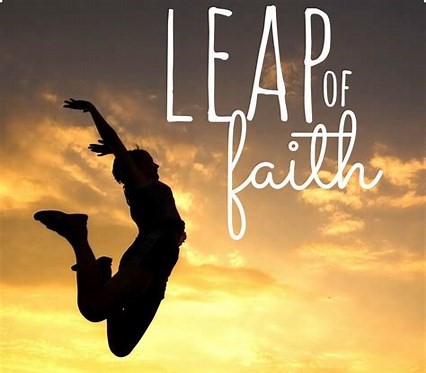 FAITH IS A DARE
by Ron Susek
©Golden Quill Publications
By faith we understand that the universe was formed at God's command,
so that what is seen was not made out of what was visible.
(Hebrews 11:3 ESV)
Can you hear non-believers laughing upon reading the verse above? They have mocked the word "faith" since the beginning of time.
Their sarcasm, however, echoes back as laughter upon them. Why? Because the whole world lives by faith. The only thing that differs is the object of our faith.
So, the world gets huffy and claims to believe in evolution on the basis of science. Therefore, they claim that they reject blind faith for the so-called "facts" of science.
Problem is, from the days of Darwin to today, "science" has yet to find one missing link to confirm transmutation from one species to the next. Without that, evolution remains a hoax and a joke.
Yet, many place their faith in a "Big Bang" without addressing how the matter for the "bang" appeared out of nothing.
I do not want to get technical and complicated in this short article, but just be assured that all evidence points to those simple words in Genesis, "God spoke and there was…."
Yes, faith is a dare, but placing faith in our Creator and Savior is by far the safest dare possible. Not only is creation evidence of His existence, but history reveals that God has never once failed to keep a covenant or a prophecy.
If you are ready to take the most certain dare of your life, here is a prayer to follow:
Dear God, on the basis the Jesus died for me, I am trusting your forgiveness for all my sins. I am asking you for the power, to live committed to You, from now, until I meet You in heaven. I pray in Jesus' name, Amen.
Always remember, Immanuel: God is with you.
Ron